Spa Packages
The Ultimate Indulgence Day
3½ hours. Salt glow, shower, body wrap, paraffin hand dip, steam shower, full body massage with a gourmet lunch. Design your experience. Select a salt/sugar glow and/or body wrap. Then select the type of massage you'd like to receive We''ll take care of the rest.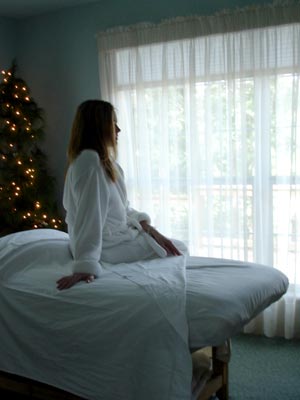 Girlfriend Getaway Package
Planning a girlfriend getaway? Then look no further. We have the perfect spot for you to bring the girls! Our bed and breakfast is the ideal location in the Brazos Valley to spend time reconnecting with your girlfriends. No Cooking, No Cleaning, No Children & No Stress… but plenty of great shopping!
When you stay at The Nest Bed, Breakfast and Spa a wonderful 3 course full hot breakfast is included for your stay along with wine and appetizers served between 4-6pm And with Hullabaloos just down the road you can grab a fabulous Texas style lunch just a few minutes drive. Don't want to leave our beautiful grounds….no worries, Susan or Raymond can prepare lunch or dinner for you and girls by special request. It's every girls dream to have her own housekeeper and of course that's the case during your getaway at The Nest.
Our Upstairs accommodations is the perfect retreat for friends looking to spend some quality time together. The large two bedroom, one bath, with 2 temperpedic rollaways (if needed, accommodates up to 6 people. With great shopping and wineries close-by, there are plenty of activities to make your girlfriend getaway unforgettable.
Girlfriend Getaway Package includes:
Accommodations, spa services, wine tasting with a gourmet appetizer, star gazing, marshmallow roasting, sitting by the camp fire until all hours of the night. Laughing until your belly aches.
Massage Therapies
Swedish
Light to medium touch. Best known for increasing circulation, relieving muscle pain and tension and reducing stress. Tension dissolves, leaving only comfort and well-being behind.
30 min. session – $45 | 60 min session – $65 | 90 min. session – $80
Sports/Deep tissue
Really firm, Swedish type massage. Loosens the tissue enveloping the muscles to free up habitual holding pattern of stress. Recommended for those who regularly receive massage and enjoy deeper work. This technique tends to be slower and coordinately with breath, two to three areas can be thoroughly addressed in a 50 minute session.
30 min. $80 | 90 min. $100
Remineralizing Bliss
If feelings of fatigue, stress and low energy are creating imbalance for your physical and emotional well being, this is the perfect solution. An essential oil infused seawater gel providing all 104-trace minerals to rebalance sluggish cells while a therapeutic massage leaves you in a state of bliss.
60 min. $70
Mother-To-Be Massage
Gentle aromatherapy massage for mothers-to-be. Expect a great massage with beautifully scented aromatherapy oils of lavender, neroli, red tangerine and ylang ylang, blostered with borage oil – excellent for cell regeneration, circulation and stretch mark prevention.
60 min $65 | 90 min. $80
Hot Stone massage
Black basalt river stones are warmed in a water bath and used as a massage tool in the therapist's hand to provide muscle work. This is one of our more restful relaxation services if you are in need of comfort and deep rest. Warmed Aromatherapy oils add to the exquisite experience. It rocks!
60 min $85 | 90 min. $110
Lymphatic
Extremely light, sequenced strokes stimulate the movement of lymphatic fluid, thereby cleansing the body. Excellent for reducing pain, fluid retention, chronic inflammation, sinus conditions, headaches and sprains.
60 min. $90 | 90 min. $120
Best Foot Forward Massage
A soothing foot massage. Not only will your feet feel great, it's good treatment for poor circulation. Peppermint foot scrub ,Hot paraffin foot bath, and massage.
60 min. $65
Reflexology
A complete body tune-up based on the theory that our feet serve as maps of our anatomy. By applying pressure to specific points on the sole of the foot to break up crystallized deposits in the feet that interfere with blood circulation and causes congestion, the referred body part is benefited. Warm paraffin dip is included to help reduce inflammation, joint stiffness and heal the effects of dry skin. Reflexology and hot paraffin foot bath.
60 min. $65
Two of a Kind
60 minutes of pampering right along side your daughter, mother, partner, friend. At the end, all four of your feet will be wrapped in hot towels steeped in eucalyptus essential oil. Shared bliss. Each person may select their own service (Swedish, deep tissue, sports, mom-to be, body wraps, etc.) to enjoy together in our spa. Afterwards you will enjoy a beverage and light snacks. 60 minutes depends on the service selected 80 minutes.
Body Treatments
Body Exfoliatants
These services are designed to slough away dull surface skin, cleanse and nourish.
Lemongrass scrub
Zesty lemongrass and sage are blended to create an invigorating and exfoliating scrub effective in sloughing off dry skin. Finish this off with a Swedish massage with lemongrass/sage balm.
Scrub, steam/shower and a 1 hour massage.
120 min. $130
Olive Our Love – Our Signature Treatment
A wonderful scrub, shower, oil application, wrap. The humble olive is alive with vital nutrients and antioxidants, and its oil is a marvelous moisturizer. First, ground olive stones will gently exfoliate your skin. After a cleansing shower, your body will be anointed with warm olive oil, enhanced with natural extracts. Then you'll be wrapped for 20 minutes to absorb all the olive's benefits. Great for sensitive skin. You'll love the olive. Scrub, shower, oil application, wrap your skin will purr.
90 min $100
Eucalyptus Experience
Expose yourself to the antiviral, immune-system-strengthening properties of eucalyptus. After an exfoliating scrub of salt infused with lavender and eucalyptus essential oils, you'll enjoy a shower and steam saturated with eucalyptus. Your body will then be treated with a eucalyptus gel. Great as an immune booster. Scrub, shower/steam, gel application
60 min $80
Lavender Salt Scrub
This treatment combines an invigorating exfoliation using sea salts following by a shower.
45 min. $60
Macadamia Nut Scrub
An invigorating scrub. Coffee grounds exfoliate dead skin cells, preparing your skin to drink in a soothing, moisturizing blend of olive and hemp sea oil, shea butter, sea salt and herbal extracts. Caffeine increases circulation, helping to reduce the appearance of cellulite. Refreshes tired muscles and provides protection from oxidation, sunlight and pollution.
45 min. $95
Rice Exfoliating Scrub
This stimulating body scrub is specially formulated to aggressively exfoliate dead skin cells, using natural seeds, while nourishing and moisturizing with Shea and cocoa butter. A natural blend of chamomile, calendula, comfrey and ivy are used for essential cleansing. Finally, honey is added for ultimate moisture retention. Scrub and steam/shower.
60 min. $70
Mother of Pearl Cream
This luxurious cream aids in skin renewal and regeneration. Amino acids and more than a dozen minerals, present in pearl powder, work to promote the growth of new epidermal cells giving the skin a smooth, fine, elastic and naturally beautiful appearance. Coral powder replenishes the skin with an abundance of minerals including calcium. The cream contains pearl and coral powder, aloe, algae extract, honey, chamomile, lavender and Melissa.
Body Wraps
Seaweed Wrap
Pre-warmed liquid seaweed cell fluid gel, rich in sea minerals and biotrace elements will be applied and you'll be wrapped like a little burrito with warm blankets tucking you in. This treatment promotes toning of the skin and detoxification.
Body Wrap and steam shower
60 min. $70
Milk and Honey Body Wrap
The Milk and honey work together to rapidly restore the skin's equilibrium making this treatment especially valuable for sensitive and dry skin types. The wrap soothes dry skin with the hydrating qualities of honey and the mildly exholiating properties of milk enymes.
Body wrap and steam shower
60 min. $70
Pumpkin Body Experience
An all inspiring body wrap, shower and massage, all packed with pumpkin goodness.. Pumpkin is best known for its high concentration of beta-carotene and Vitamin E two very important antioxidant agents to fight the effects of aging, but its also contains Vitamin A, B1, B2, B6, C and D. You'll be wrapped for 30 minutes with a pumpkin-rich body butter that includes a glorious blend of shea, extract of honey, lavender and sweet Melissa . Rich in minerals such as magnesium, potassium, calcium, iron, pumpkin will renourish your depleted skin to a vibrant glow. We provide the finishing scent to our pumpkin wrap with Cinnamon and Clove Essential Oils in our pumpkin body butter. To Die For….
Body wrap, steam shower and massage & pumpkin goodie!
120 min. $150
Texas Starry Nights
Gentle, lavender oil application, massage and body wrap. A relaxing treatment right before bedtime. you'll be wrapped for 25 minutes to soak in the lavender oil, followed by a soothing massage topped off with a heated pack on your tummy . Night, night!
60 min. $70.00 | 90 min $110
Herbal Celluite Body Wrap
Minerals from an underground thermal lake in Hungary have been combined into this Herbal Mud Masque that is used to detoxify, purify and simulate the lymphatic system, releasing toxins and excess fluids from the skin.
90 min. $125
Raindrop Therapy Session
Young Living Essential Oils are dropped onto the spine from about 5 inches above the body. The oils are then spread using light strokes which stimulate the electrical body to disperse the oils throughout the body. Essential oils penetrate cell walls, bringing oxygen and stimulating the immune system as well as detoxifying at a cellular and tissue level. Moist heat is applied to your spinal column to increase the penetrating power of the oils as part of the session. Expect something wonderful. Worth every penny.
90 min. $120.00
Use of our Hot Tub Under the Texas Stars
For 1 person $20 | For 2 or more $30.00
How to Spa
Hours of Operation
9am till 8pm Monday thru Saturday, Sundays 1-7pm
When should I arrive?
For your enhanced comfort and relaxation, we suggest that you arrive 15 minutes prior to your first appointment, allowing time to familiarize yourself with the surroundings.
What if I am late for my appointment?
Arriving late will simply limit the time for your treatment, thus lessening its effectiveness and your pleasure. Your treatment will end at the scheduled time so the next guest will not be delayed.
Cancellation Policy
Because spa treatments are reserved just for you, you must notify us at least 24 hours in advance if you need to cancel or reschedule your appointments. 50% of the value of the treatment may be charged for cancellations or changes within 24 hours. No Shows or cancelling without 24 hours notice will be expected to pay the full value.
Tipping
One question that I am asked often is about tipping. This is a very embarrassing question for me to answer. The best way that I can handle this kind of question is to tell you that about 80% tip, 20% do not. It's strictly up to you.
Courtesy
This is a place of tranquility and relaxation. Please respect the quiet by turning off your cell phone or pagers. Thank you.