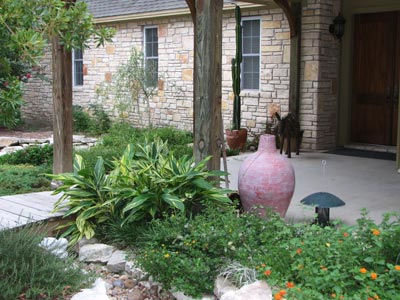 The Nest Bed, Breakfast and Spa is located approximately 15 minutes from the Texas A&M Campus off Wellborn Road. Your nestkeepers live in the homestead in a peaceful country setting amidst the wooded grounds on 20 acres. This country chic home overlooks a fully stocked pond and where you'll find miniature donkeys grazing.

What you can expect is luxurious linens on every bed. Homemade cold pressed lavender rosemary castile soap in your bathroom. The rosemary was hand picked from our own garden. There is no artificial fragrance oils or unnatural colorants. A local artisan creates our soaps for us, Missy Singleton of Flor De Noche Soaps.
Upstairs
Tanager Room
Enjoy a secluded alcove furnished with antique cream iron ex-long twin beds covered in luxurious and peaceful blue and cream linens designed to lure you into relaxation and blissful sleep. We are proud to offer this unique sleep experience that has been delighting guests in Westin Hotels and resorts for years. Our twin extra long beds are the Westin Hotel Heavenly Beds. They are custom made and conform to your body for a rejuvenating sleep experience.
Unwind with one of many games at the uniquely decorated game table or enjoy the view of the pond below. Friendly touches such as musical instruments, antique toys and family photographs inspire a feeling of comfort and coziness.
Hall bathroom
Sparkling white granite counters tucked under the eaves, intriguing books on the shelves and fluffy towels greet you in the bathroom. The shower and tub boast a one of a kind dainty embroidered shower curtain.
The Cardinal Room
Featuring a queen sleigh bed and coordinating antique chest of drawers and armoire, a large bedroom welcomes you with matine red toile and cream duvet cover and shams that tells a story from olden times stacked with pillows including a velvet one embroidered with the word "LOVE." Let us spoil your pajamas with our 600 count sheets waiting just for you. The queen size accommodations is also a custom made bed by the Westin Hotel and Resorts named the Westin Hotel Heavenly Bed. They are custom made and conform to your body for a rejuvenating sleep experience.
You won't want to get out of bed! A large corner built-in desk awaits your work or your leisure letter writing. The view out of the dormer window reveals trees, rolling terrain, a large pond and occasional glimpses of the miniature donkeys living at The Nest.
Downstairs
The Meadowlark
Serene blue and pewter colors lure you into the luxury of a custom made queen bed dressed with a blue and cream pineapple print spread and accented by pillows featuring meadowlark print fabric. Call it Heavenly as well. Unique charcoal colored nightstands and an antique iron bed provide practical and beautiful allure to the room. A cleverly painted blue and cream antique drop leaf desk enhances the charm of the décor. The large deep window brings in lots of light yet offers wooden blinds for late sleepers. You might catch a glimpse of a deer or two as this is their favorite passage way to the pond.
Connecting Bathroom
Shiny granite surfaces and a great view of the pond greet you in the bath which connects two bedrooms. A soft terry robe is ready for you when you step out of the shower or tub and shelves provide luxury items to make you feel pampered.
The Robins Egg
A comfy blue chair and a delightfully restful daybed magnify the small size of this single bed room decorated in restful blue and cream. The view of the pond from the large window widens your horizons and draws you outside for a closer look or the blinds close you in for a cozy night's sleep.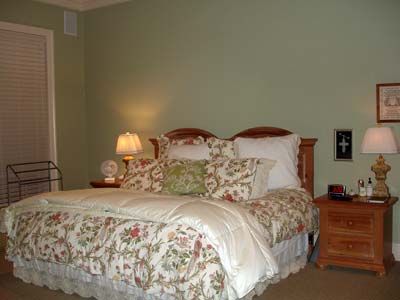 The Pheasant Suite
The large master bedroom features an elegant original white-washed entertainment center and a corner fireplace designed and built by the owner. Dwarfed by the high ceiling, the spacious room size and the bank of windows overlooking the pond and beautifully groomed lawns, the pine king-sized bed is piled with a lovely duvet and stacks of pillows and flanked by generous night stands. With a un suite twin sink granite bathroom, soaker tub and separate shower drenched in light from several windows, this nest it the ultimate haven for relaxation.
"As for butter versus margarine, I trust cows more than chemists."
Joan Gussow
Your hostess was brought up to pay attention to the little things in life, friendship, etc because she knows that little things aren't little!
No matter where we are in our lives, our problems are never as big as our purpose. Here may you live life at its best and may you find comfort and rest.